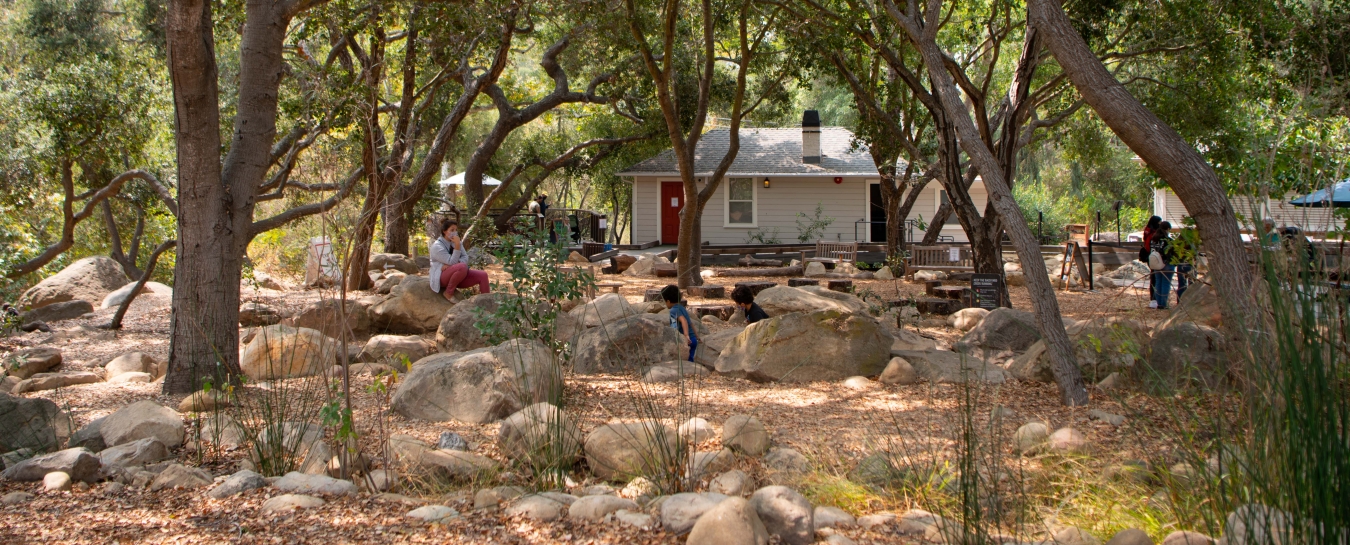 Museum Backyard & Nature Club House
Ongoing
Located just beyond the Sprague Butterfly Pavilion, the renovated and ADA-accessible Museum Backyard is a nature play area nestled in the oak woodland along Mission Creek. It is open daily during announced Museum hours and free with paid Museum admission.
Backyard features have been modified to accommodate social distancing and your safety. Planned opportunities include:
Field Science with a Naturalist: Thursdays–Sundays, 10:00 AM–5:00 PM. You never know what our naturalists will surprise you with! Depending on who's on duty, they'll show you specimens, maps, and more. Dr. Feather (Thursdays) is an avid birder with special expertise in Barn Owls. Dr. Rockenheimer (Fridays and Sundays) is an expert on geology. Dylan "Spiderwoman" Otte (most Saturdays) knows all about—you guessed it—spiders. All our naturalists are full of fascinating stories and they're happy to answer your questions or let your curiosity drive the conversation. Naturalists take a half-hour lunch break at midday.
Nature Mysteries: Daily, 10:00 AM–5:00 PM. What's in the Mystery Box? Find out by asking yes or no questions. Is it alive? Does it have a backbone? Does it have leaves? Is it bumpy? The naturalist will tell you the answers as you get closer to solving the mystery. After revealing what's in the box, the naturalist might teach you more about it by reading a story for all ages. Naturalists take a half-hour lunch break at midday.
Play Stage: Put on a show, see a live animal, or check out a Museum production. You never know what you'll discover on stage. Regularly scheduled live animal programs to be announced.
Backyard Creek: Our new and much-improved manmade creek in the woods sets the scene for relaxation, exploration, and play for guests of all ages. We have identified three creek play zones more than twenty feet apart to allow our youngest explorers to play while remaining separate from other groups. The creek water is chemically treated to a public pool standard.
Sensory Garden: Guests can enjoy a sensory experience with local plants. Additional programming is scheduled for this area to help children of all ages learn more about native plants, insects, butterflies, and the work of natural scientists.
Boardwalk: A beautiful elevated walkway that winds through forest and creek, making nature accessible to all.
Eyes in the Sky Aviary: Home to six rehabilitated raptors including Max the Great Horned Owl, Ivan the Red-tailed Hawk, Kisa the Peregrine Falcon, Athena the Barn Owl, Puku the Western Screech Owl, and Kanati the American Kestrel. Eyes in the Sky is Santa Barbara Audubon Society's key wildlife education program featuring birds of prey that can no longer survive in the wild. For more information, visit https://santabarbaraaudubon.org/eyes-in-the-sky/.
The Nature Club House, BioBuilders Zone, Paleo Dig, and Mud Pie areas are being taken offline or reimagined with new programming to reduce physical contact between guests.
Want to explore the outdoors more?