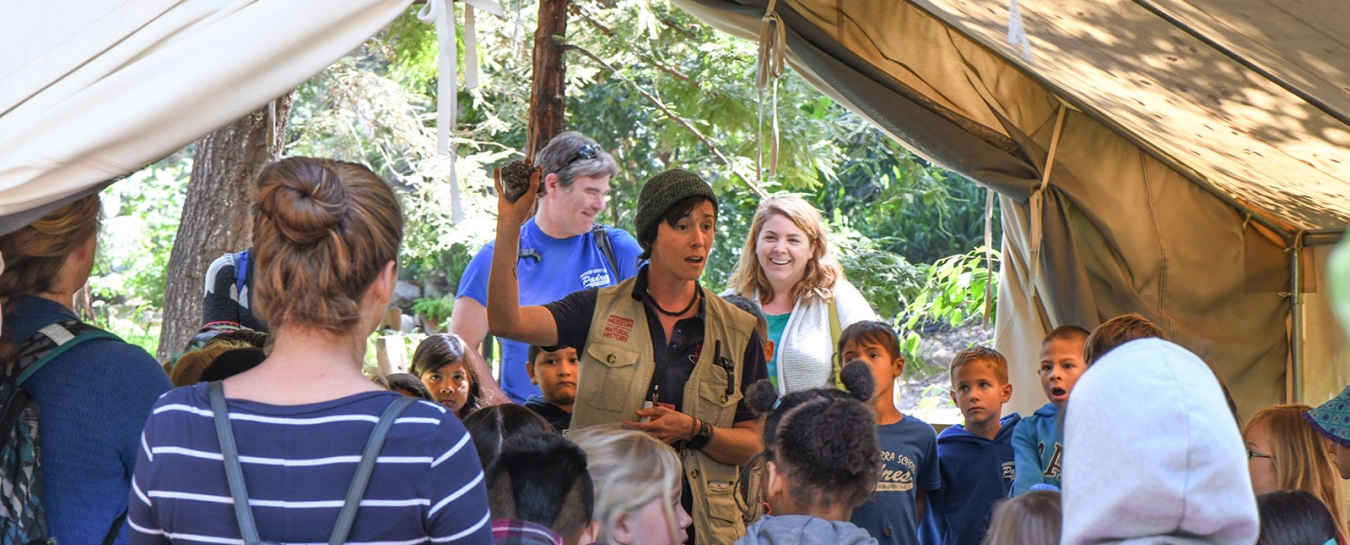 Museum BaseCamp
Through August 10, 2018
Through mid-2018 the Museum's highly popular Backyard and Nature Club House will receive enhancements and new exploratory program spaces.
During this time, a new outdoor nature engagement area, BaseCamp is located on the south side of Mission Creek from September 2017 through Summer 2018.
BaseCamp is open daily from 10:00 AM-5:00 PM with the exception of the following dates:
No BaseCampon June 15 after 1:00PM
No BaseCamp or Bug Boot Camp on Saturday, June 16
No BaseCamp or Bug Boot Camp from Wednesday, June 27-Sunday, July 1
BaseCamp features:
Build Zone
Create structures using bamboo poles.
Search Zone
Dig deep and search for invertebrates*, and play with tractors in our mulch pile.
Nature Art Zone
Use things found in nature to make beautiful masterpieces.
Naturalist Field Station


Open daily from Noon-5:00 PM*

(*Subject to change)
Every weekday and weekend, a Naturalist will open up our Field Station Tent and share natural objects, live insects, and other small critters.*
Bug Boot Camp
Offered daily from 10:30-11:30 AM through September 4. No sign-up required, and walk-ins are welcome. Use tools, magnifiers and ID guides with a Naturalist to discover a variety of insects and more found in the Museum's mulch pile.
Want to explore the outdoors more? Download our nature exploration guides: